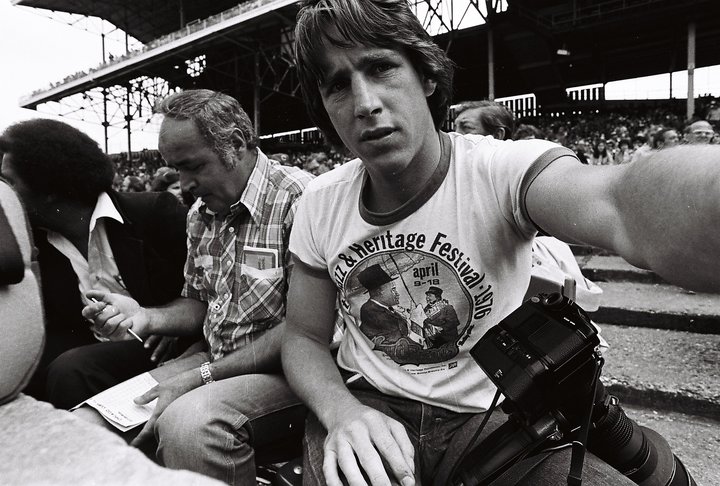 Probably not, but I have been obsessed with this classic shot of fellow photographer and friend Charles (Chuck) Cherney at a 1978 Cub's game since he posted it a couple of years ago.  Seems I'm not alone and I'm trying to figure out why.  I recently commented (for a second time) on this photo on his facebook page after showing it to my friend (who added that it might be the first original selfie).  She and I were talking about how we were obsessed with the 70's and 70's love songs lately.   I think we listened to The Raspberries "I Can Remember" and various Christopher Cross songs a thousand times last weekend. Chuck and this photo came to my mind.
After I posted on Chuck's timeline, comments came in in droves and I felt like I started an avalanche.  Comments and likes streamed in on his wall:  "Ahead of your time…a selfie without a cell phone!"   "The good old days! I wish I could go back."  "Hey Chuckie … I think this might be the first selfie ever taken : )"
I called Chuck and was like, "What was that all about?"  He replied, "I don't know Suzanne, I think it makes people think they are young again.  I was just  trying out my 14 mm lens!"    Chuck and I also talked about how we are a bit lost in the age of social media because it's all about promoting and posting about yourself these days.  Sure, readers saw his byline in The Chicago Tribune and they probably asked him all about his job when they saw him walking around Chicago with his camera, but that's as far as self promotion went.
Personally, I know why I'm obsessed with this photo and I think it might be the same for his friends.  Yes, it's 70's Chuck, but it was taken in innocence during a time when self awareness and self promotion weren't as rampant.  It was also taken at a time when photography was important to a newspaper and photojournalists like Chuck were valued and a rare commodity.  I was 10 in 1978, and when I see this shot, I can literally hear Supertramp or Steve Dahl and Gary Meyer in our white VW Rabbit while we drive north on the Dan Ryan.   It's a hot, humid day, the windows are open, no seat belts, and we are heading to a ballgame.  Chuck and this photo allow me to revisit Chicago in the 70's for a moment.  I can also look at it and dream of being a photographer back then.
When I first met Chuck we were both covering a high school track meet.  He was shooting for The Chicago Tribune and I was shooting for Pioneer Press.  He spotted me when I was leaving and unlike most photographers said, "Hi! How are you?!"  He shook my hand and commented on how cold my hands were.  Most photographers that don't know you, glance at you, acknowledge you with a grunt, and then move on.
After that,  Chuck and I would occasionally meet at the Tempo Cafe in Chicago where we would discuss my work, photography, or general thoughts about life.  He's not that much older than me, but his wisdom and encouragement came from a day long gone.  I started late, maybe too late, but he was always  positive.  "Shoot what you want to shoot Suzanne", "What makes you happy?", "Don't let any a- holes discourage you and there are a lot out there." He would also tell me about the hard work it took to develop film and make prints that were worthy back in the day.  He probably spent a good portion of his evening in the darkroom after shooting this game.  I've called him a few times after moving to Seattle for encouragement during hard times and he always just makes sense without preaching.  He doesn't take himself or life too seriously.
Even before I saw this photo, the Chuck of today reminded me of a more relaxed, "happier?" day gone by.   I could just imagine him coming over to our ranch house in the 70's and patting me on the head telling me to go get 'em before heading down to our cork-walled, red shagged basement to hang out with my brother and listen to Genesis records.   The 70's seem to waft in the air when he's around and I've even told him for some unknown reason Steve Forbert's "Romeos Tune" reminds me of him. 70's song perhaps?
After 20 years with The Chicago Tribune, Chuck was laid off  with some other staff photographers who had dedicated their lives to covering the streets and ballparks of Chicago.  In classic Chuck style he told me, "I've never been happier Suzanne, now I can go shoot what I want to shoot."  He is and he's doing quite well.  A link to his awesome work is here.    And, if you are a sports fan, check out his amazing classic sports shots .
Thanks for taking me back to the 70's Chuck, but more importantly thank you for giving me 70's style advice.  Like my favorite childhood t-shirt with the big yellow smiley face, it's relaxed, breezy, and happy (with just enough reality thrown in).  This shot is better than the first selfie.  It's a reminder that you were the definition of cool when the term "cool" was cool.  Still are my friend.